Oxbows Off Leash Dog Park Red Deer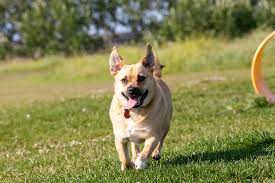 Are you searching for an exclusive place for you and your furry best friend? Do you want your dogs to enjoy the outdoors? Then, Oxbows Off Leash Dog Park is the answer!
Oxbows Off Leash Dog Park is located at 19 Street and 40 Avenue's corner. The entrance is located off this avenue. This 16-hectare off leash dog park is designed to have dogs and their owners a great place for bonding time.
When you visit this park with your furry buddies, you can enjoy the following site features:
Small dog areas

Interpretive kiosks 

Amphitheatre 

Agility park

Rest locations 

Open training sites 

Diverse terrain 

Winding trails 

Entrance staging area
The Oxbows Off Leash Dog Park's amenities and trails are designed to reflect Piper Creek's wandering nature. After all, the park is very close to the creek.
Ideal Recreation Spot for Dogs and Owners 
One of the best ways to show your love for your pets is by giving them bonding time, and this park is a perfect place to do that. This 16-hectare park provides an agility area, open training areas, and winding trails to give the best opportunity to exercise your body.
An agility area is an ideal place for your dogs to practice their agility. If you love watching dog shows, you can have them at the amphitheater. 
The park also has a small dog area because small dogs are sometimes hurt and intimidate by larger dogs. This area offers you and your small dogs a chance to enjoy the best things about the park without concern or fear of larger dogs.
Oxbows Off Leash Dog Park Etiquette
While you and your dogs are so much welcome to visit and enjoy the park, you need to follow some simple rules for everyone's safety and peace of mind. 
Your dogs must behave accordingly and come when being called. They should refrain from chasing other dogs and wildlife, and they must have up-to-date vaccinations. Ensure that your furry buddies interact well with their fellow dogs.
When visiting the park, keep your dogs leashed until they are inside the fenced-in area. It would help if you had a leash in possession all the time. If you notice that your dogs' are having the first sign of aggression, remove them from the park. Do not forget to fill any holes made by your dogs and clean after them. By following these simple rules, everyone in the park is sage and will have fun.
As you travel to Oxbows Off Leash Dog Park, you will not only give your dogs a quality time, but you can also relax and unwind. So, there's no way for you not to visit this off leash dog park from time to time.
Conclusion 
If you are looking for a beautiful attraction in Red Deer, Oxbows Off Leash Dog Park is a great option. Bringing your dogs here will give you a great bonding moment while enjoying nature. As you take a break from your busy life, bonding time with your dog is an incredible escape. Happy bonding!